Godrej- Pad Lock Range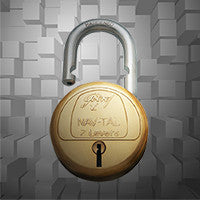 Godrej is one of the best locking solutions, we ever have.  They have a wide range of pad lock series. There goal is to "Higher the key combination, safer is your home." Even KNOBSKART has also sent a shipment of a selected Godrej padlocks to the USA. 
Strength of the Lock Body
When a trespassers uses force to break or damage the lock to gain entry. A good, sturdy lock will always prevent forced entry. All Godrej locks undergo thorough & rigorous life cycle tests, as well as load-bearing tests to prove their strength before they reach to you.
Master Key
Lock made using this technology allow the user to have a single key for a maximum set of locks used, provided the locks are of the same technology level.
Lever
A lever is a lock design that uses flat pieces of metal (also known as levers) and a bolt as locking components. In most designs, the position of the levers prevents the bolt from retracting. When positioned properly, a gate in the lever allows the bolt to move (shot or withdrawn). 
Series of Padlocks
 5  Levers - 2 keys/ 3 keys
 6  Levers - 2 keys/ 3 keys
 6  Levers - Long Shackle - 2 keys/ 3 keys
 7  Levers - Hardened - 2 keys/ 3 keys/ 4 keys
 7  Lever Shut Height - 30 mm/ 50 mm
7 Levers Deluxe Hardened - 3 keys
8 Levers Hardened - 2 keys
8 Levers Deluxe Hardened - 3 keys
---
 5  Levers - 2 keys
 6  Levers - 2 keys
 7  Levers - 2 keys/ 3 keys
---
NAV- TAL  - BLISTER PACK-
 5  Levers -3 keys
 6  Levers - 3 keys
 7  Levers Hardened - 3 keys
---
 5  Levers - 2 keys
 6  Levers - 2 keys
 7  Levers - 2 keys
---
SHERLOCK SOLID BRASS PADLOCK
Carton - 40 mm/ 50 mm
Blister - 60 mm/ 70 mm
---
Texture Brown - 200 mm/ 275 mm
Chrome - 200 mm/ 275 mm
---
 MyLock Padlock 
  MyLock Candy
---
 5  Lever 
 6  Lever
 7  Lever
 10  Lever
---
6  Lever - 50 mm
 7  Lever - 60 mm
 8  Lever - 65 mm
---